We were delighted to mark the 100th placement via our Concurrent Planning Service at a celebratory event attended by our partners at Regional Adoption Agencies Adoption Now, AIM, Together for Adoption and Adoption Counts and our carers.
Established in 2014, Concurrent Planning involves both fostering and adoption services working together to give young children aged 0 – 4 years the best start in life.
Concurrent Planning Service Manager, Angela Chapman said; "It's remarkable how far this service has come over the past 5 years.  It was just 2 years ago that we made out 50th placement and here we are today having reached 100. "
She added "Concurrent Planning has helped to shape the future for all the children placed with this service, whether they have stayed with their carers who have become their adopted family or returned to live with their birth families, what this service has done for them is give them the best start in life."
Kate Knowles, Concurrent Planning Practice Manager said, "I'm so proud to have been part of this service since it started in 2014. Our carers never cease to amaze me with their courage and commitment to the children placed with them.  These selfless acts, putting the best interest of the children first, really articulate what this service is all about and without them, 100 children would not have had this positive start to their lives."
Karen Barrick, Head of Service, Adoption Now said, "We have worked closely with the Concurrent Planning team over the past 5 years and what we know is that Concurrency works, it provides the best outcome for our children.  My special thanks go to the carers, who take on this role with uncertainty but also knowing that whatever the outcome, they have been instrumental in giving children a positive beginning."
We work hard with our Concurrent Carers to prepare them for either the child returning to their birth family or remaining with them and becoming part of their own family through adoption.  We know that some children do return home and so we put strategies in place so our carers are totally prepared and emotionally equipped to deal with this should the situation arise. Nearly all of our carers who have supported a child returning to their birth family, have come back to us to do all again!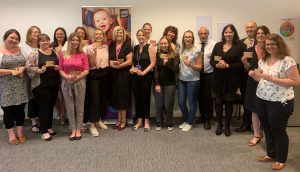 Concurrent Planning is a partnership service delivered by Caritas Care and Adoption Matters.
To find out more about becoming a Concurrent Carer contact us here