On Saturday 13 May 2017 Fulwood Free Methodist Church held a Spring Concert to raise funds for Caritas Care's FX Project and raised an astonishing £810.00
Free Voices were joined by Hoghton In Harmony choir.  Their musical director, Helen Latham, gave a stunning solo performance of a song from Phantom of the Opera.
The choir, whose members included Caritas Care's very own Caroline Crook, Cath Gawne and Ruth Potts, performed songs from differing decades and genres and it certainly delivered on its promise to be a really enjoyable event.
Learning Disabilities Manager, Martin Heneghan said "Both choirs were really good and I was impressed with the quality and variation of the songs performed on the night, our staff certainly have hidden singing talents!
The atmosphere was warm and really friendly. The PowerPoint and showing of the service's 'Something Inside so Strong' video captivated the audience and gave a true reflection on the dedication and hard work that goes into supporting and creating new experiences and fun activities for our young people at FX… truly spectacular!"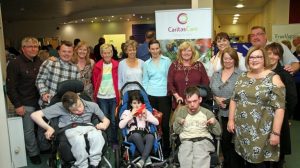 There's was an amazing turn out including a number of our young people who attend the FX day service, their families and staff. Everyone had a great time and a good old sing along!
We would like to give our special thanks to Free Voices Choir for choosing Caritas Care's FX project as their charity project for this event and also to Caroline, Cath and Ruth for sharing their talents to give us such a magnificent performance.
We would also like to thank the audience who kindly donated on the night. The money we have raised will be used to buy photography equipment for the FX service for our young people to enjoy learning to use and creating memories.
If you would like to make a donation to the FX Service you can do so through our fundraising page:
Help us make a difference to the lives of people with Learning Disabilities.