A few months ago we decided we would like to go on holiday. We talked about where we wanted to go and one of us wanted to visit Robin Hoods Bay and the other wanted to see where Heartbeat was filmed, so we decided Whitby would be a good place to stop. We looked on the website and to see what there was to do and put a plan together with our support staff.  We booked a lovely little cottage in a little village called Lythe, near to Whitby.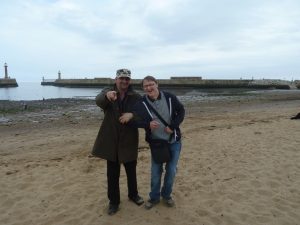 We had a fantastic time!
Our cottage was lovely, we even had an old free standing bath, which we wanted to take home! We had enough room for us all to relax and there was a shop and a pub in the village. Just down the road there was a lovely beach and after that it was Whitby. We spent a whole day in Whitby and walked all around the harbour and across the beach. We looked around the shops and even dressed up as American Civil War Soldiers for a picture in the Victorian Picture Shop. After this we went out on a boat trip on a boat that looked like Captain Cooks and watched the street entertainers before we went home. It was a very tiring but lovely day. Whitby was so much bigger than we thought it would be!
The day after, we decided to go to see where Heartbeat was filmed and then to Robin Hoods Bay. We arrived and saw all the buildings just like they were on Heartbeat! We visited the shops and had dinner in 'The Aidensfield Arms'. We sat right by the bar where a lot of the filming was done and then went to have a look around Scripps garage, which still had a car in it! There were people with birds of prey on the village green so we had a look at those too and took some pictures, they were lovely but we didn't want to get too close!
We finished off by visiting the steam train station they use in Heartbeat. It looks just like it does on the TV. Harry Potter was filmed there too.
Our final trip of the day was to Robin Hoods Bay because one of us used to go there as a child. We walked down the very steep hill and then went paddling in the sea but it was very cold! The walk back up the hill was very hard and we stopped for a rest but we did eventually make it to the top!
We were very sad to set off home because we'd had such a good time. We arrived home very tired but we'd had a lovely weekend away and can't wait for our next one!
Ian & Colin
Supported Living Services
Find out more about how our Supported Living Services supports people with Learning Disabilities to live independently here