We are delighted the beautiful mural designed and created by the young people Princes Trust's Preston Central Team 64: Liam, Callum, Brandon, Casey, Jordan, Danielle (artist), Wallied, Kye, Samantha, Sarah, Nathan, Lucy, Hayley and Andy and staff members Anji & Emma.
We were contact by Princes Trust to see if there was a community project the young people could get involved in to support our VIP project. We put forward a couple of ideas; to paint the annex and help spruce up our garden area.  We were thrilled when we heard that the team had accepted both challenges and the young people's idea of designing a mural for the annex of our building on Tulketh Road was really exciting.
The young people worked hard during what was one of the hottest weeks of the year and completed both projects on time. Throughout the week, they team interacted with VIP staff and the people who attend our day service, encouraging all to participate in the artwork project.  Assistant Manager at VIP Dawn Kerr said "Everyone thoroughly enjoyed the whole experience and we are amazed and really pleased with the finished product.  Thank you to everyone one at Princes Trust who participated, you were all amazing."
We celebrated the end of the project with a handover presentation by the young people who all gave a short speech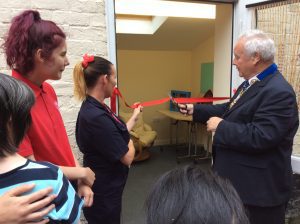 about how much they had enjoyed their time with our VIP service followed by afternoon tea. To commemorate the event, the Mayor of Preston, Councillor Brian Rollo added his hand print to our tree and congratulated the young people for a job well done.
Anji Hesketh, Preston Central Team Leader at Princes Trust said "Our young people have requested copies of all the photos and really want to remember their time with VIP. They loved the project. Thank you for putting on a great spread and for the extra effort of putting the bunting out. It really was appreciated."
We would like to thank the Princes Trust for their support and giving us this lovely space for all to enjoy.