Our foster care journey led us to a friendship borne of respect…
Jane B and Jane R are both foster carers with Caritas Care and their friendship began at a foster care training course where they sat together. Neither women had met before; however, while chatting, they found that not only did they live close by, they also have a mutual circle of friends. In fact, one of their foster children was a friend of the other's grandson and went to the same school where one of them worked. Subsequently, a strong friendship was borne from mutual empathy and respect for each other as foster carers, and more importantly, mutual respect as women.
Unfortunately, lockdown means no more coffee mornings or lunchtime meets for them which was often possible when the children were in school. For now, a chat over the hedge at the bottom of the garden is the new normal; consequently; it's a part of the day where two women meet, taking time out for each other and allows them to put their world to rights.
My life before Caritas Care…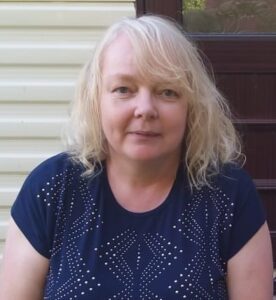 Jane B has been a foster carer with Caritas Care since 2012 and approved for short term care with children aged 0-18 years. Previously Jane had worked for the Benefits Agency, she knew even then that she wanted more from life and she had thought about foster care. When their 3rd child was born, they knew the cost of childcare was not going to be feasible even with part-time work. Therefore, Jane volunteered in a local playgroup while her children were small and later qualified as a Teaching Assistant, a role that she loved.
As a result of redundancy, their thoughts once again came back to fostering, things were different now…why not now? So, in 2012, they made their decision while fuelled with pride as they watched the London Olympics and applied as foster carers with Caritas Care. One year later, they welcomed their first foster child into their family home.
His eyes were dripping with tears, he did not know he was crying…
Jane feels the children in her care are 'a mixed bag of feelings' where 'each child brings their own connections'. She said, 'you think that the children have given so much, you just want them to not give up!'
One child who was 10 years of age was moving back to his own home; he knew he was leaving, but when that day came, he said…
'Jane, my throat is tight, I'm choking'. His eyes were dripping, he was crying, and he didn't know because he had never cried before'.
Communication is vital to foster care.
Jane R is a long term foster carer with Caritas Care, she believes that communication is vital to foster care.
Jane R is a long-term foster carer with Caritas Care and has worked with children all her life. When she began looking into fostering, a parent of one of the children from her own child's nursery had previously adopted a child through Caritas Care and suggested they speak. As a result of this conversation, Jane contacted Caritas Care and is now a long-term foster carer to a little boy.
Jane told us, 'Sometimes you can feel quite isolated, I am not particularly good at asking for practical help, and I have learned to do that more. Therefore, communication is so important with people who understand. The children touch you in ways that you never even know are there, and each child is so different. I find that if you look for help, it is always there because it is so important to get it right for these children and that support makes you feel better, we are empowering each other as women, and we just get it. We are part of a wider family; we have our children and our grandchildren, and we all rub along together, we include the children in everything that we do'.
Caritas Care has a 'family feel' to them.
Jane R chose Caritas Care because it has 'a family feel to the agency, they are family orientated, and she has a sense of belonging with them.
She said, 'I feel that larger organisations lose things, they lose the closeness that you need, whereas Caritas Care march on for the better. They always have the time to spend with you, and we do lots of work together planning new ways with new ideas to mentor new foster carers'.
'It is important that children see that friendships and family life is normal and that I have friends where I am normalising friendships to them. This normalising makes them feel part of the family, they have an inclusion, and this epitomises to me Caritas Care above other agencies. Fostering is a profession, and I embrace training. Caritas Care's training is fabulous with a positive attitude, and it is invaluable'.
' We cover subjects like trauma therapy, how children make you feel, and understanding things more apparent when you reflect on it. My job has changed, and I have worked with children all my life; however, I think that having a secure backup team around you is vital'. Jane R
Caritas Care being there when you need them most.
Jane B shares why she chose Caritas Care,' I googled fostering, and my Local Authority came up together with 2 agencies, both Not for Profit'. Jane received a home visit from both agencies and said, 'I knew immediately that Caritas Care was the right one for me'. They were local and close to her home, and they felt like a good fit'. 'They gave me advice and support on the financial side of fostering because I had no idea about that, and it was necessary.'
'Caritas Care are incredibly supportive of me. I was ill a few years ago and I really needed someone to decide for me. I knew what I should do but just could not make that decision. Caritas Care understood, and they made the decision for me, and when they did, it was a massive weight off my mind. I could now concentrate on getting better because I knew they were there for me once I had recuperated. This is the difference in having strong relationships with each other, you are not just talking to a person, you are talking to people who understand and care for you, and that makes a difference'.
Jane B told me 'Jane came into my life because my mother in law had become poorly, I had no-one to take care of my little boy (my foster child), who was autistic and nonverbal. I knew my mother in law was extremely ill, and sadly, she died. I needed someone to care for him during the funeral, and Jane stepped in. My foster son went to the school where Jane worked, so she knew him; this gave me comfort because I knew my little boy would be happy with her. I have offered respite for her 6 or 7 times now, and we became friends. Her son is friends with my grandson, we are like a blended family, and we are incredibly close'.
'We go out together as women on our own, it is essential to keep that friendship as women as well as foster carers'.
Normality returns and embracing the changes after lockdown…
Both women agree that fostering children is not easy, you need an understanding of children who have not had normality. Often you reflect to your own personal experiences when children are displaying trauma, and this can be hard, but they know not to feel guilty about taking time out. Each time you re-visit old places in your own past, you must realise that many children are recently leaving their own experiences, and for them it is raw. Some children have layers of emotional sides to them, and you must unpick their behaviour and look behind the cause with an understanding and empathy with them.'
Subsequently, we are looking forward to the children going back to school where they have their own routines and friendships. This is important for them, and it is essential for us too!
Picking up the pieces, and each other with Caritas Care
Jane R says 'We know that things have moved on now, times change, and we reflect this in our care. We have strong relationships with our social workers, but most importantly, we have strong relationships with others as women and as mothers ourselves. Jane and I are remarkably similar, we pick up the pieces when they need picking up, and we pick each other up when we need it too!
'I will never let go of being a mum, even when my boys get older, I will always be a proper mum to them because that what Mum's do, you can't let go because they are part of you and it is who you are'.
I am glad that I foster and that I have a friend who fosters too.
Jane B said  'Lockdown has meant that we haven't been able to go out together as much as before. However, we regularly chat together and put the world together, especially if you have had a tiring day because she just gets it. She understands because she does it, and that makes it better'.
If you have been inspired with our 'story of 2 Jane's' and would like to find out more about becoming a foster carer with Caritas Care click HERE to get in touch.