DETAILS:
LOCATION: Preston
Salary Point 17 | £20,547 pro rata (£10.50 per hour)
---
Do you want the opportunity to make a real difference to people's lives?
We currently have job opportunities for Sessional Support Workers and are looking for people who can work as members of a team in helping us to provide direct support to people who have learning disabilities.
You will assist in delivering programmes of activities designed to meet the service users' personal needs and help them in their personal development.  You will help to deliver a range of services including supported living, outreach, centre or community based support.
We are looking for people who can think on their feet, who can make important decisions whilst using person-centred approaches and who work with empathy and compassion.
Available shifts vary in length, covering daytime to evenings and weekends.
Experience is desirable but not essential and you will be fully supported alongside experienced colleagues during your induction.
If you enjoy a challenge and want to learn new skills we would love to hear from you.
Meet Chris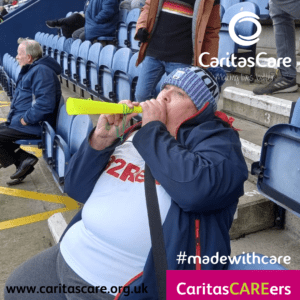 Chris is described as 'always thinking about others and wants to help people.  He's a loveable character who has the ability to put a smile on anyone's face'.
Chris has mild mobility issues and learning disabilities and requires day-to-day support to help him to live independently in his own home.  Chris says, "I've talked to people about what I used to be like and how Caritas Care has helped me to become a calmer person."
Chris is a well-known and popular character within his local area and regularly attends meetings about issues affecting his community directly.  He wants to make it a better and safer place for people to live and enjoy.  Read More…
TO APPLY:
For more information and to apply, please download the application pack OR:
EMAIL: jobs@caritascare.org.uk
TELEPHONE: 01772 732313